Important Aquarium Design Tips That You Need to Know
Do you want to set up an aquarium with beautiful looking fishes and some amazing plants and other popular décor? Then you should know that, choosing an Aquarium design is not that easy as you think. There is a lot more that goes into the process of setting up an aquarium so that the fishes and other living organisms in it can live and thrive properly. Do not be worried as here some tips for choosing the right design has been explained for your convenience. So, read on to know how you can select an aquarium design that will make the aquarium perfect in terms of functionality and attractiveness.
Tips on Researching process
When it comes to designing your home aquarium you can enjoy a limitless opportunity to run wild with your creativity and imagination. But, you cannot skip the most important step that is researching about this subject. Firstly, the aquarium design for fresh water aquarium is completely different from a saltwater one. So, you have to keep this in mind when looking for tips for freshwater aquarium.
By the help of researching about this topic you will be able to tell which plants and fishes and other living organisms can inhabit in the same environment without any complication. Besides this, you will also be able to know what type of condition that you need to create in the indoor aquarium of yours to make sure that the aquarium design is successful and, of course, healthy.
Tips on Population of Fishes
Besides choosing the fishes that can co-exist, you also have to make sure that the aquarium is not too crowded. A crowded tank is not at all attractive aquarium design and comes with a lot of complications. Many suggest that a tank should be designed according to one inch fish/gallon of water. But, it will be best to consider surface area of the aquarium instead of the volume when choosing the number of fishes to have. So, it will best to go for one inch of fish for 12 square inches of surface area.
Tips on Fish Tank
Before discussing some important tips on purchasing tank, there is one thing that you need to know. And that is to avoid buying cheap fish tanks at any cost. The risks of a tank made with cheap materials are many, especially if you are planning to buy acrylic tank.
Fish Tanks comes in different styles, design and even color so choosing one according to your taste and preference will be possible. From basic rectangle glass fish tanks to hexagons to square cubes to "L" shape ones, the list is endless. When choosing tanks, yes you do have to select the one that looks the best or that suits the décor of your room. But, it is also important to choose one based on its functionality. So, when buying fish tanks on sale, do make sure that they are made with good quality material and can support the water and all the living organism and decoration that you will place in the tank.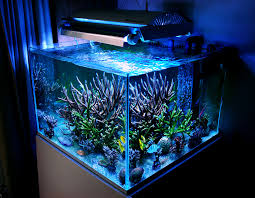 Tips on Equipments and Decoration
And this is why researching is an important step before designing your aquarium. With the help of the gained knowledge you will be able to know which equipments you should install according to the living organism in your aquarium. Some of the important equipments to have are pumps, chillers, heaters, lighting systems and water filtration systems etc.
Just like there are many types of equipments, there are also different types of decorations to choose from. From ready-made ones to build your own to vintage looking to themed based; online and offline stores are filled with many options. When choosing just keep in mind that they are not toxic or easily degradable, so that they do not cause any harm to the living organisms in the aquarium.
Tips on the Plants
It is very important to take into consideration the plant in case of selecting the aquarium design. But, you should know that plants (either living or artificial) are very important in any aquarium as they provide hiding place for the fishes. When picking a plant always get the proper information about how long the plant is going to grow. You should do this because then you will know if the plant will get big enough for the aquarium or not. And one more thing, always place the smaller plants in the front and the bigger ones in the back of the tank.
So here you have it, some important tips on fresh aquarium design. Too overwhelming? Then, take help from a professional who excelling in fish tank design.